このページの英語はDMMネイティブ講師によって校正済です。
This trip to Amami Ōshima was a spur of the moment thing.
这次旅行是我突然想到的
I was booking a flight to Kagoshima, and originally I was going to fly to Matsuyama after visiting Kagoshima, but I suddenly thought, "Wait, I've never been to Okinawa. I might as well check out one of the southern islands since I'm down here."
So I checked which flights to those southern islands would be covered by JAL mileage. As you might know, Okinawa is a very popular destination, so those flights were all fully booked.
Then I looked for other destinations around there and what do you know? There were some seats available on flights to Tanegashima and Amami Ōshima.
I wondered which of them would be more interesting.
Tanegashima imported guns from Portugal at one stage in its history, and it also has the largest rocket-launching complex in Japan. Unfortunately, neither of these things particularly grabbed me.
So that left Amami Ōshima, but what did I know about it?
I didn't really know anything other than that it was supposed to have fantastic beaches, but what the heck, I thought. If Amami Ōshima was the only one left, why not do it?
So that's how I came to book my flight to Amami Ōshima.
Life is a mystery.
You never know what's going to happen. I never imagined I would get to visit that island so soon. I always thought it would happen one day, but it was always just a vague thing at the back of my mind.
I used to ride a motorbike and traveled around Japan. Mostly solo. So there was no reason it should have been a problem for me to travel by myself anywhere in Japan, but somehow without a motorbike I felt uneasy.
Taking trains, buses, planes – none of that stuff worries me at all, but I thought I would feel lonely.
When I was on my motorbike, it was very liberating. It was a feeling of total freedom and being able to go wherever I wanted.
With public transportation, you basically have to book ahead, which is such a hassle. I find booking accommodation in advance kind of depressing.
But anyway, I did it this time! It was like being freed from my own preconceptions, because the trip turned out to be nothing like I ever imagined.
I got on the propeller aircraft at Kagoshima airport.
I've hardly ever been on that kind of small plane, so I took some photos.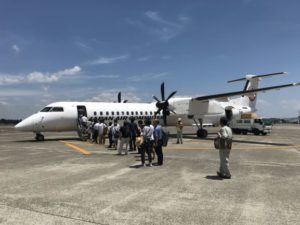 Then I sat down in one of the aisle seats. It took off soon after.
I was very excited to be leaving mainland Japan so I was looking out the window every time the in-flight announcements explained which islands we were passing.
That's when the woman next to me offered to switch seats.
She said, "You must be sightseeing, right? I'm from Amami Ōshima so this view isn't anything special for me. Let's change seats."
So we got talking and ended up talking the whole 50-minute flight. We not only switched seats but also had a nice chat and exchanged business cards.
To be continued…
このページの英語はDMMネイティブ講師によって校正済です。